There's both an art and science to learning how to choose a great domain name for your new blog that tells readers about who you are, the topics you're blogging about, and more. So, what are you going to name your blog?
If you're interested in starting a blog you've probably thought about how to name your new blog, right? It's an important question to answer during this process.
It's estimated that there are over 500 million blogs on the internet. So, it's obvious that it'll take some effort to truly stand out from the crowd. Especially if you hope to write blog content that people will actually want to read for the long run.
But before you can start writing that amazing content, you'll want to think of a great blog name that becomes your identity. Therefore, part of your branding strategy and making yourself memorable to readers is in choosing a great long-lasting blog name that you can use for the rest of your future.
This is the part that confuses a lot of new bloggers but after reading this post, this should not be anymore because this is an ultimate guide for a newbie blogger to pick a great name for his new blog.
How to Come Up With a good Blog Name: 4 key Questions to Ask
Before we get into how to come up with a good blog name, here are a few questions you need to ask yourself.
1.What's your new blog going to be really about?
Before you start a blog and think of its name, you have to decide what topic your blog is going to be about. For example, say you come up with pets and then decide to blog about cameras. That's not going to work. Better to choose a blog niche first, and then think of a name that fits. 
2.Who Is Your ideal Target Audience?
Knowing your target audience also determines the name you choose for your new blog.  For instance, compare these 2 different photography blogs:  Outdoor Photography Blog covers equipment, tips, and tricks specifically for photographers who are interested in taking outdoor photos: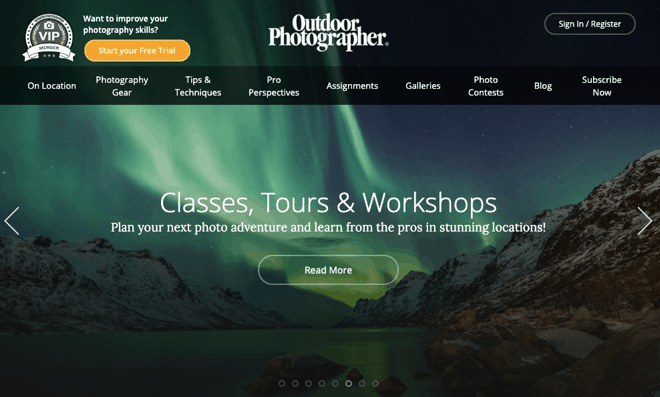 Similarly, iPhone Photography School covers tips and tutorials specifically for iPhone users so they can take better photos with their iPhones: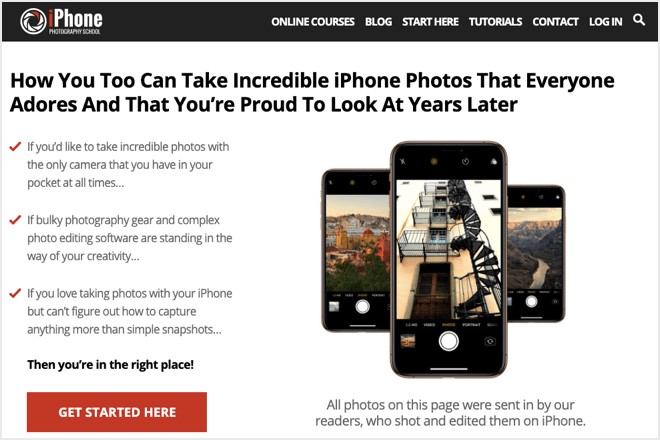 Both sites make it clear in their name who their target audience is.
3.What Is Your Writing Style gonna be Like?
Very closely related to your target audience is the tone and voice you're going to use with your target audience. For example, compare on these 2 news sites:
The New York Times is one of America's oldest news publications, which prides itself on delivering accurate, up-to-date news in a relatively serious, credible tone: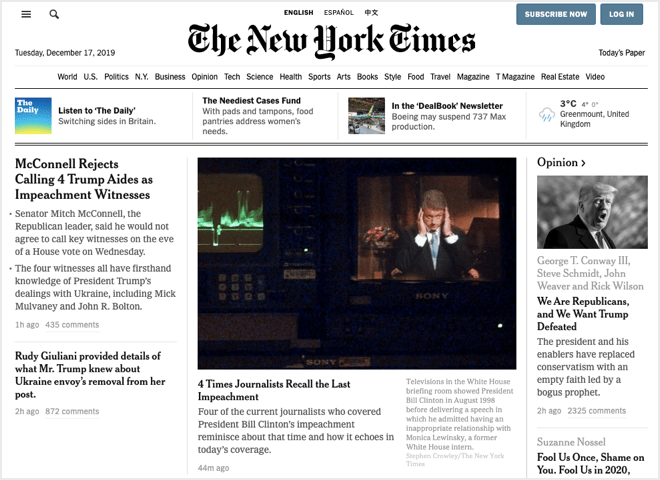 Whereas The Onion is an American satirical publication, which pokes fun at all the latest news, stories, photos, videos, and more: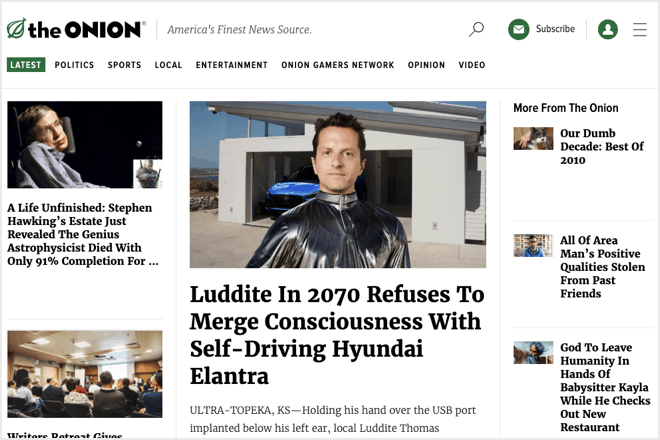 4.What Happens If You Blog on Other Topics?
This might be hard to answer because it's impossible to know what lies for you in the future! Still, it's smart to leave yourself some room to expand and grow.
For example, don't use the blog name Mad About Hippos if you think you might want to blog about flamingos or zebras, too. Instead, the better way is that you can choose a name with a little more flexibility, like Zany Zoo Animals. Silly examples, I am sure you get the idea!
What makes a great blog name?
A great blog name is something that is short, unique, memorable, and contains your main keywords. Your blog's main keyword is essentially the primary topic of your entire website. This makes it relatively easy for those who're interested in that topic to discover your blog and read it.
For example; take the blog name is WPbeginner.com, which is short, simple, and easy to remember. It includes the keywords for their target audience: 'WP' (WordPress) and 'Beginner'.
Making your new blog name unique can help you build a strong brand in the long term. On the other hand, if you pick a generic or common name, then it will be very hard for people to distinguish your blog from others.
For example, 'The Simple Dollar' blog used a sweet combination of common words to create an easy-to-remember, catchy and brandable name for their blog.
Moreover, If you are creating a personal blog, then you can also use your name as your blog's name. There are many popular blogs named after the bloggers' names including Michael Hyatt, Syed Balkhi, and others to name a few.
How to come up with a great blog name?
After answering some relevant questions, it's time to come up with a catchy blog name. Here are some tried-and-tested ways to pick a great domain name for your new blog.
1. Use Your Own Name
Let's start with your own name. But Is it a great idea to use your own name or not?  The answer really depends on what your blog is really going to be about.
If you have a personal blog that's going to be just about you, your life, or your services, then using your own name can work amazingly well. That way, people can easily find your blog out if they're searching for information about you.
For example, Syed Balkhi uses his own name as he shares personal experiences in his online entrepreneurial journey: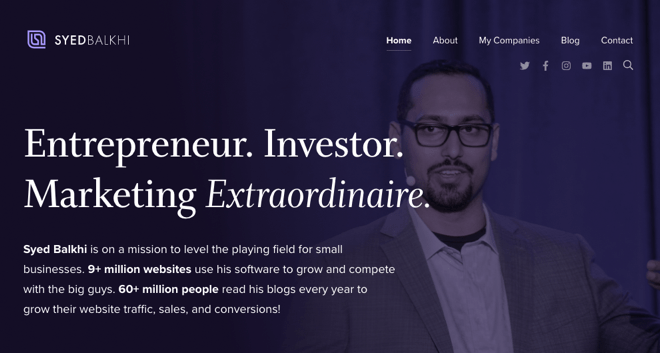 On the other hand, using your own name is not a good idea, if your blog is going to focus on a product or a niche, instead of your own personal brand. For example, Brian Dean uses the name Backlinko to his advantage since his blog is about SEO rather than using his personal name.
2.Choose a Completely Random Name
It's possible to choose a blog name that doesn't have any obvious links to your blog topic, but is still memorable. One example of this method is a popular travel blog called Melting Butter.
Remember that choosing a completely random name might be a risky option, especially for your first blog when you're relatively unknown there. But it can work when you gain some traction because your blog name will be distinctive.
3.Check Your Competitors' Blog for ideas inspiration
Checking your competitor's blog names can give you some great ideas of what should you name your blog. Consider what their names mean, their first impression, how they sound and feel, and how long they are.
For example, consider these 3 blog names from the beard grooming niche:
Beardbrand
Beardoholic
Balding Beards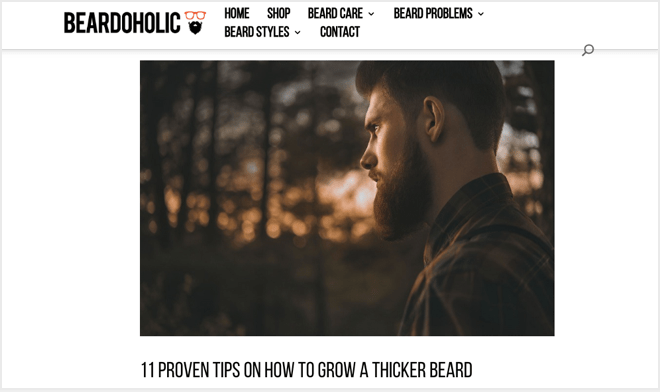 They all use the word "beard" in them, plus another related word to make it clear what niche they're in, and they also keep their name short. Well, they might have used a business name generator tool to come up with different ideas, you can do the same too.
4. Pen and Paper can help
Sometimes it's a good idea to take a step back from your computer and use the good old-fashioned pen and paper. It's easy to get sidetracked while you're online. But if you take yourself somewhere quiet without any distractions around you, you can often come up with plenty of good domain name ideas. 
Writing things down stimulates your creativity, and soon you'll have a page full of ideas you can explore further. Why not take it one stage further and invite a couple of friends to join you for a coffee, put your thinking caps on, and pool your blog name ideas!
5.Use a Blog Name Generator
One of the tools bloggers often use and recommend to come up with a catchy name for their blog is Free Domain Name Generator.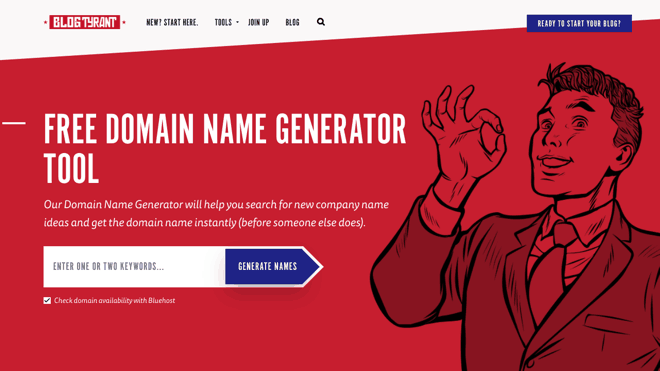 It'll help you come up with plenty of brilliant blog names, and get the domain name for free with Bluehost.
To get started, all you have to do is just enter a couple of keywords and let the tool work for your and find some unique combinations. Here's a snapshot of names it found from the words "yarn dying":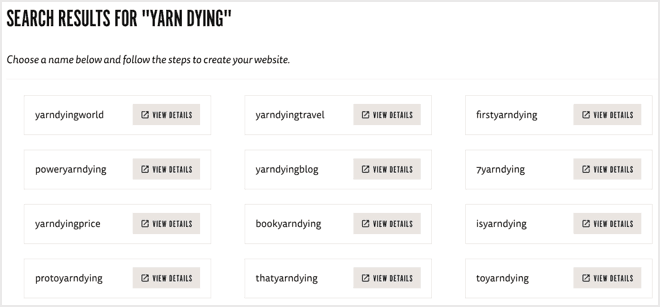 6.Make use of the Thesaurus
A thesaurus is a handy writing tool that you can look upto for inspiration when you're writing a blog post. 
But you can also use it to choose a blog name.
For instance, just enter a word into Thesaurus, and it finds synonyms (related words). For example, when you enter the word yarn, the thesaurus suggests alternatives such as fleece, wool, twist, and thread: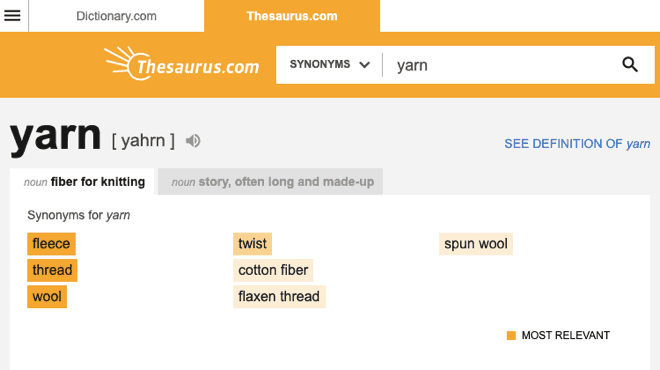 Here are 4 more tools to help you find the right words.
Related Words helps you find words that are closely related to a specific word or phrase: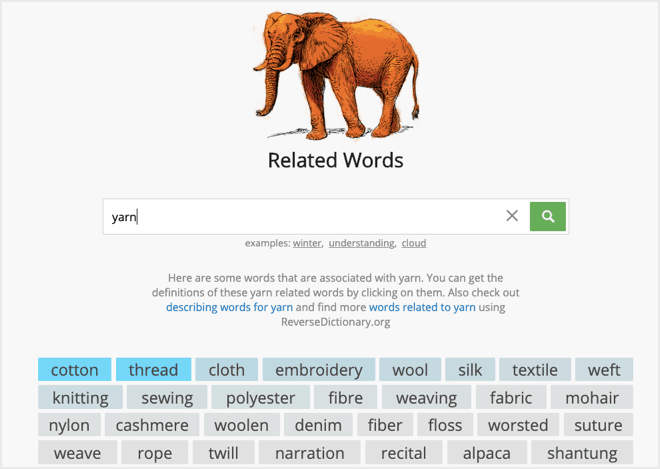 Reverse Dictionary is another tool that allows you to search for words by their definition. For example, when you enter "inhabitant of the earth", it suggests out several words including earthling: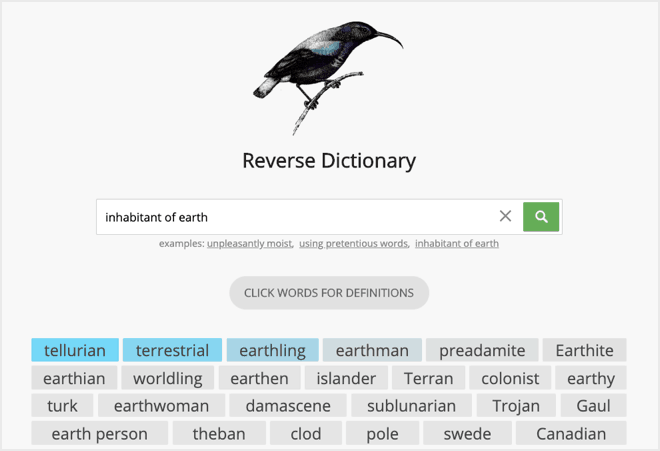 Word Hippo, another tool, includes a selection of creative tools, including synonyms (what's another word for), antonyms (what's the opposite of), and rhymes (words that rhyme with). For example, here's what rhymes with yarn: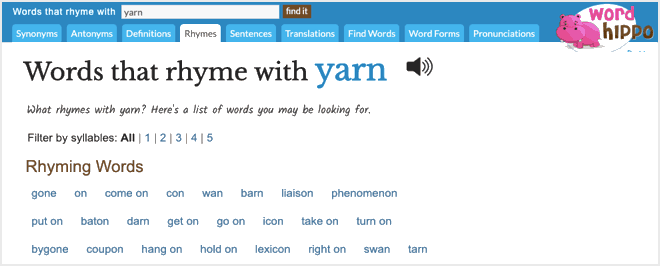 OneLook helps you find related words, but you can also include some other search parameters for your liking. For example:  
blue* finds words and phrases that start with blue
*bird finds words and phrases that end with bird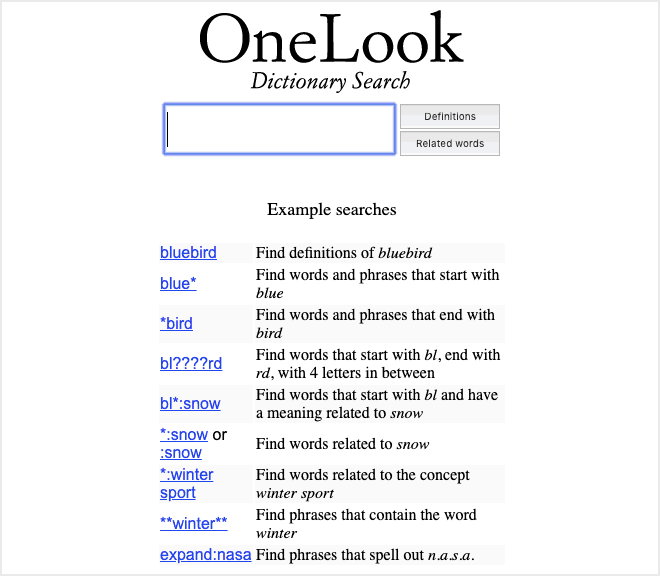 7.Try Alliteration or Assonance for blog name
Alliteration is the idea for choosing a blog name when you have the same letter or sound at the beginning of adjacent or closely connected words. Using a combination of words can create a real rhythm and sound catchy. For example, Well-deserved Win, Blazing Blogs, Cute Cats, Spooky Spoon, and Financial Freedom:
Assonance is similar, but it's when just the vowel sounds are repeated. For example, in the travel blog name Backpacking Matt, all the "a" vowels sound the same.
8.Make Use of Abbreviations or Acronyms
Sometimes you come up with a great name, but then soon realize that it's going to be too long. That's where abbreviations come in. Abbreviations are easier to remember and avoid any typos when people enter the name in their browser.
For example, WP is the abbreviation for WordPress used in many blog names, including WPBeginner: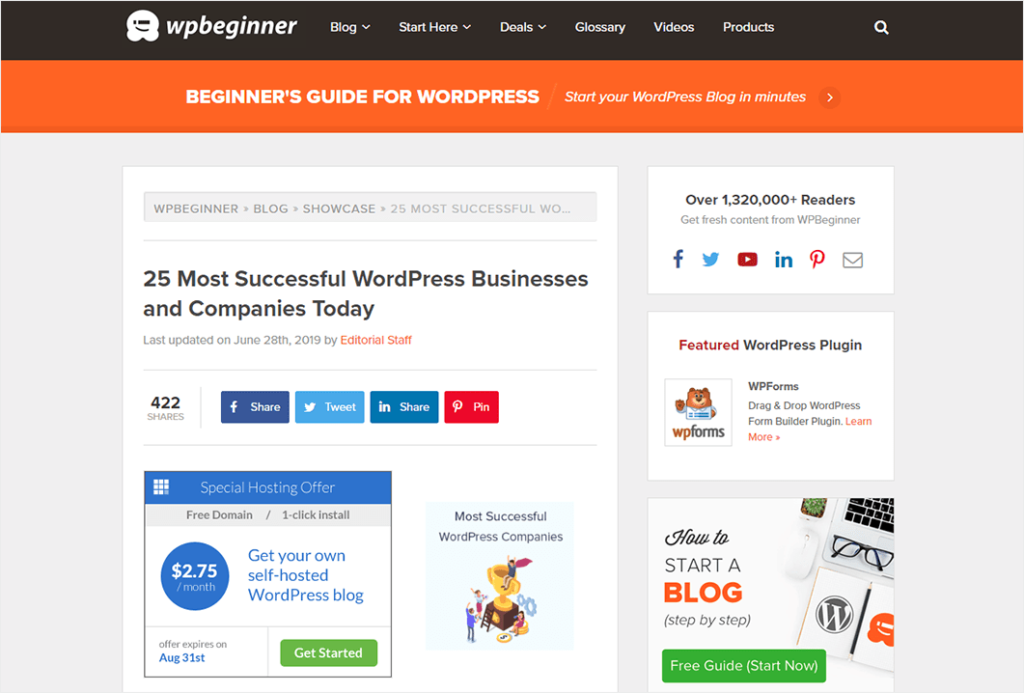 9.Consider foreign Language words
If you want to stand out from the crowd, you could try using another language for your blog name to your advantage. 
Sometimes you come across words in different languages that have a good sound to them. Their meaning could be either random or related to your niche, but they stand out for your liking.
For example, the travel blog Meraviglia Paper combines the Italian word for marvel or wonder, Mereviglia, with the English word Paper: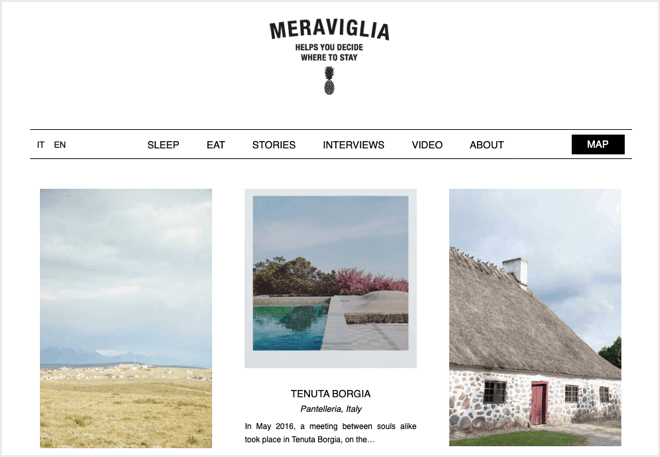 Try using Google Translate to search for words in another language.
10.Create a Portmanteau
A portmanteau is a word that develops from blending or merging two words together. For example, the Labradoodle dog breed comes from merging Labrador Retriever and Poodle. 
Here are some blogging related portmanteaus from this extensive wiki list for a better idea:
Blog – from web and log
Blogosphere – from blog and atmosphere
Podcast – from iPod and broadcast
In this case, you can try the Name Combiner tool to combine up to 4 words into one unique word: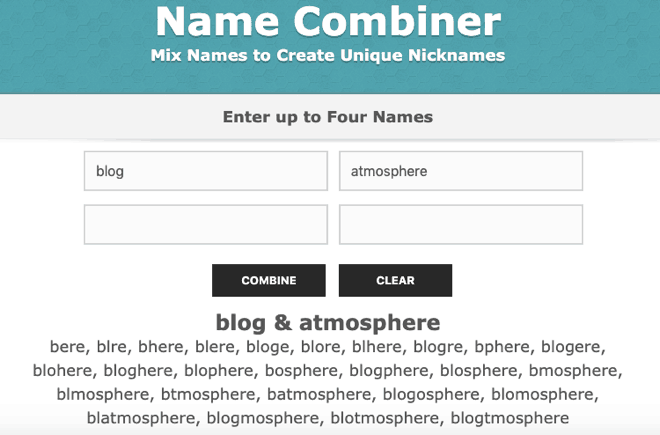 11.Make a Common Saying Your Own
Another popular way to come up with a good name for your blog is to modify an idiom or turn of phrase. For example, the makeup blog She's in the Glow is just a play on words, based on the phrase "in the know". You can use a site like The Idioms to find phrases you can make your own for your liking.
How to use blog name generators to name your blog?
If you don't have any idea of how to pick a good name for your new website, domain name generators come here for the rescue. These blog name generators use random word combinations with your main keyword to help you find available blog names that you can use to start a blog.
Best Blog Name Generators for your blog in 2021
The following are some of the best blog name generators for your blog that you can use for your advantage.
Nameboy is the oldest and most popular blog name generator available on the market. This free name searching machine is easy to use, quick, and highly efficient.
All you need to do is to simply enter your keyword(s) and click the 'Submit' button. Then, it will generate tons of creative blog names based on your keywords.
For example, if you want to start a blog about fitness, then, you can search the term 'fitness.' Here is how you will see the results.
Now, you can pick the best name from hundreds of these results. If you don't find a perfect new domain, then you can search again using different keyword combinations, synonyms, prefixes, suffixes, and more.
IsItWP comes with an intelligent name generator tool. It creates hundereds of clever name suggestions and helps you to pick the best name for your blog.
Simply enter your keywords or brand name and then, click 'Generate Names' button. After that, it will come up with a list of names based on your keywords.
For example, if you are looking for lifestyle blog names, a potential keyword may be 'happy life.' If you search that on IsItWP name generator, here is how it will show results.
As you can see above, you will see a variety of combinations for your keywords. If you don't find a suitable name, you can start a new search again.
WPBeginner's AI-powered business name generator tool can also help you find catchy blog name ideas for your new project or blog. All you have to do is just enter one or two keywords in the search bar, and then click the Generate button.
Next, the tool will show you a large list of available blog names based on your keywords. For example, if you're looking for a fashion blog, a possible keyword would be fashion tips. Here's how the results look like:
The best part about this tool is that it also shows you the availability status of each domain, so it saves you time and effort while you brainstorm.
You can click on the name to register the blog domain name through one of the registrars and save money in the process too.
WPBeginner's business name generator can be used to come up with a blog name, eCommerce store name, YouTube channel name, and much more you can think of.
This tool also shows you all top-level domains (TLD) as well as other niche TLDs, so you have a wide variety of domains to choose from.
Domain.com is one of the best domain name registrars in the market. It comes with a powerful blog and business name generator, which shows you dozens of blog names with their respective cost for registration.
When you put a keyword, it will first check the availability of the .com domain for the word. If it is not available, then it will reveal other related names for you to pick from. It shows both new and premium domain names.
For example, let's try to find a name for a travel blog. If you enter 'travel notes' as your keyword, you will see the search results as below.
The .com domain for this name is not available. However, The .net version is available for a premium price. And, there are more options with different extensions. Simply scroll down the page to see more blog name suggestions.
It's important to make sure that you avoid the names with hyphens and numbers because they're less brandable. Once you pick your blog title, you are good to proceed further to register that. Domain.com is a great place for domain registration.
Blogtyrant has a free domain name generator that's designed specifically to help bloggers with brainstorming ideas.
Once you enter the keyword, it will show you dozens of creative ideas, so you can use it to quickly start a blog.
Unlike the WPBeginner business name generator, this tool doesn't show you the domain availability status by default. You'll have to click on the View details button to see whether each domain is available to use.
Network Solutions is one of the most popular domain registrars on the planet with over 7 million domains registered on their platform.
They have a built-in blog domain name generator that shows you a great list of ideas based on your keyword. All you have to do is just enter your keyword in the search field, and it will look for whether the .com is available or not.
After that, it will show you a list of other domain extensions as well as premium blog domain names that you can purchase as well, on the spot.
As you can see that while the .com domain isn't available to register, it's a premium domain for sale that you can purchase alternatively. Their blog name generator is also showing us other domain extensions like .website and others.
Domain Wheel is another awesome blog name suggestion tool. It helps you identify the available domain names for your blog with your desired keyword quickly.
Simply add one or more keywords to the domain search field and click the 'Search Domain' button. Domain Wheel will come up with many top domain names for your search.
For example, this is what we get when we searched 'yummy bites' to find a name for a food blog.
If you scroll down the results page, you can find a lot of random naming ideas from the Domain Wheel. These are short names that it believes can be used to build a good brand for you.
On the other hand, If you think you can build a brand with your own name, then you can simply get started with one of these names. Many of today's popular brands started out with uncommon words, for example, Google, Facebook, Reddit, etc.
NameMesh is another great tool that makes it easy to find great blog names by offering name ideas in various categories. Once you search your keywords, it will display naming suggestions in categories like Common, New, Short, Similar, SEO, fun, etc.
For example, if you are want to start a sports blog with 'sports lover' in your blog name. Here is how NameMesh shows you naming ideas for your blog.
You will see multiple blog name suggestions for each category for the results of words you put in. The categories help you choose the perfect name for your blog.
Pick a name by clicking; then it will open the GoDaddy website for registration. However, you can also register with other registrars like Bluehost, and SiteGround.
Lean Domain Search is a simple and user-friendly blog name finder tool. It is run by Automattic, the company behind WordPress.com.
After you search your keyword(s), it will display a list of blog name suggestions in seconds.
For example, if you are planning to start a fashion blog, then you may want to use 'top fashion' in your blog name for your liking. Let's search for this very term.
If you like any name in the list, click on it to check its availability. If it is available, you will see registration options. Selecting WordPress.com means using the WordPress.com in-built website builder.
One of the other nice features about Lean Domain Search is that it also searches for name availability on social media platforms like Twitter too.